On March 1, 2019, Archbishop Pierbattista Pizzaballa, the apostolic administrator of the Latin Patriarchate of Jerusalem, blessed the facilities of Saxum Visitor Center. Msgr. Mariano Fazio, the vicar general of Opus Dei, was present, in addition to many local Christians and members of religious communities.
During the solemn ceremony, Archbishop Pizzaballa commented, "My hope is that this center will help many pilgrims to understand the reality of Jesus. It cannot replace visiting the Holy Places. It cannot replace our own difficult journey with the Word of God. But it can be a good help for those in the beginning of their experience of Jesus."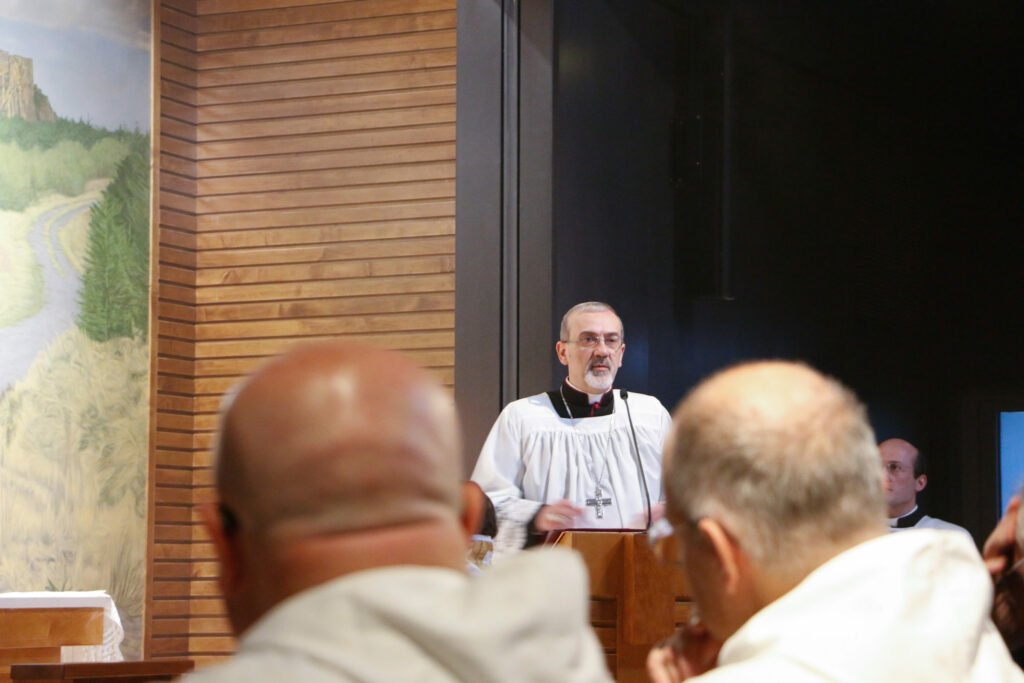 He continued, "This is a wonderful instrument, but the most important thing is the testimony we give. My wish for all of us is that we can be the first ones to have the experience of Jesus, you and I, and all the Christians – may we who live in the Holy Land may be the first witnesses, as were the disciples on the way to Emmaus, who ran back to say, 'We have seen the Lord'".
Msgr. Fazio, who came on behalf of Msgr. Fernando Ocariz, the Prelate of Opus Dei, said, "I hope this will be a place for deepening in prayer and in knowledge. St. Josemaria said that the enemy of God, above all, is ignorance, and I hope that this will be a place of knowledge, of peace, and of dialogue."
As the archbishop went through blessing the different rooms of the Visitor Center with holy water, he remarked with a smile when they opened the door of the computer and server room, "Very important to bless these".
Since it had been pouring rain most of the week, attendees were relieved when the sun broke through the clouds to shine briefly during the ceremony. A wide variety of Christians from the Holy Land were present, including members from the surrounding religious communities in Abu Ghosh and Jerusalem, and Christians from Jerusalem, Bethlehem, Nazareth, and Haifa. Those present enjoyed some snacks after the ceremony and had the chance to greet friends and acquaintances during this happy occasion.